"Using a professional Hair and Make-up Artist will make me look fake!"
You have the pictures, you chat with the makeup artist, you sit down, and wait with anticipation. Thirty minutes pass and you are so anxious. She passes you the mirror and you look in horror. You don't even recognize yourself! You are orange, your eyes are rimmed in black goo and you are in complete shock! This is everyone's fear when I meet them, I see it in their eyes.
"I don't want to look too made up!"
This is the number one phrase I hear when clients sit in my chair, and honestly, I don't blame them. So many women have been done very wrong by a makeup artist. Maybe they haven't had makeup done since they were younger (hello glamour shots!) or maybe they were in another wedding that had someone who did their makeup quick and easy and spent tons of time on the bride. Either way, the first few minutes of interaction with many clients generally involves a long list of what they don't want because someone else made them look insane.
As a professional makeup artist, my job is to listen and heighten your best features. In no way is my job to change how you look completely. I pride myself on making you feel glamorous but never overdone.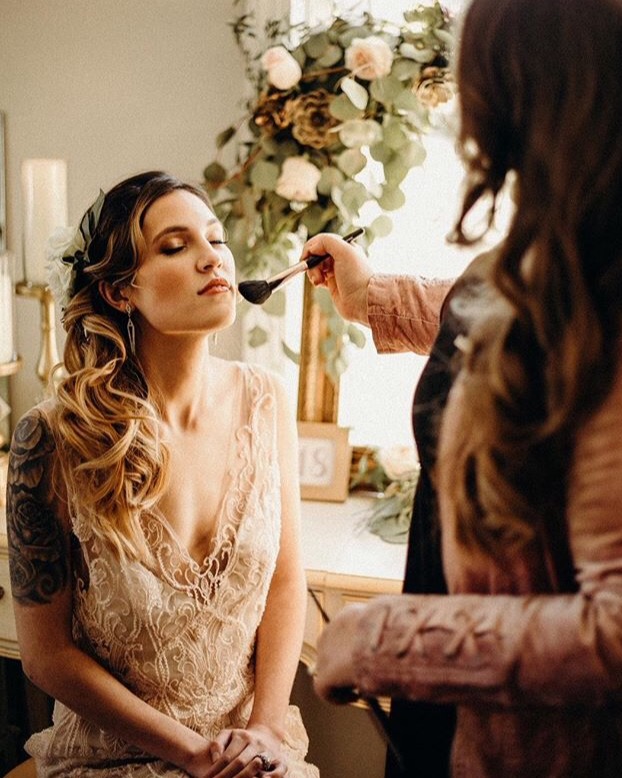 In the 13 years I have been working in this field I have learned so much!
I got my start in theatre, I went to a performing arts high school and went on to get my degree in college. Theatre fueled my creativity and led me to NYC. In New York, I worked on many different faces and chatted with tons of personalities. In order to truly get the right look for someone, you have to delve into who they are in just a few minutes. Much of the theatre is listening and reacting. I do this on a daily basis in my wedding career. Now I am involved in the biggest show of a bride's life.
It's my job to first listen and then use those clues to make professional choices. I take into account what your dream look is, what your features are, and how my skills and professional products will get us there.
My favorite part of the job is showing you the mirror and seeing how gorgeous you feel, it's honestly the best! Long story short - it is possible to look like your best self on your wedding day and a professional will make sure that's exactly what happens! 
Wedded Kiss is beauty on demand. We come to you. Whether your look is boho, retro, or classic,  It's our job to listen and get you to your ideal vision. No matter if you have an intimate bridal party or a bridal army, we can accommodate your needs. 
Find Nina on weddedkiss.com or on social on Instagram and Facebook!