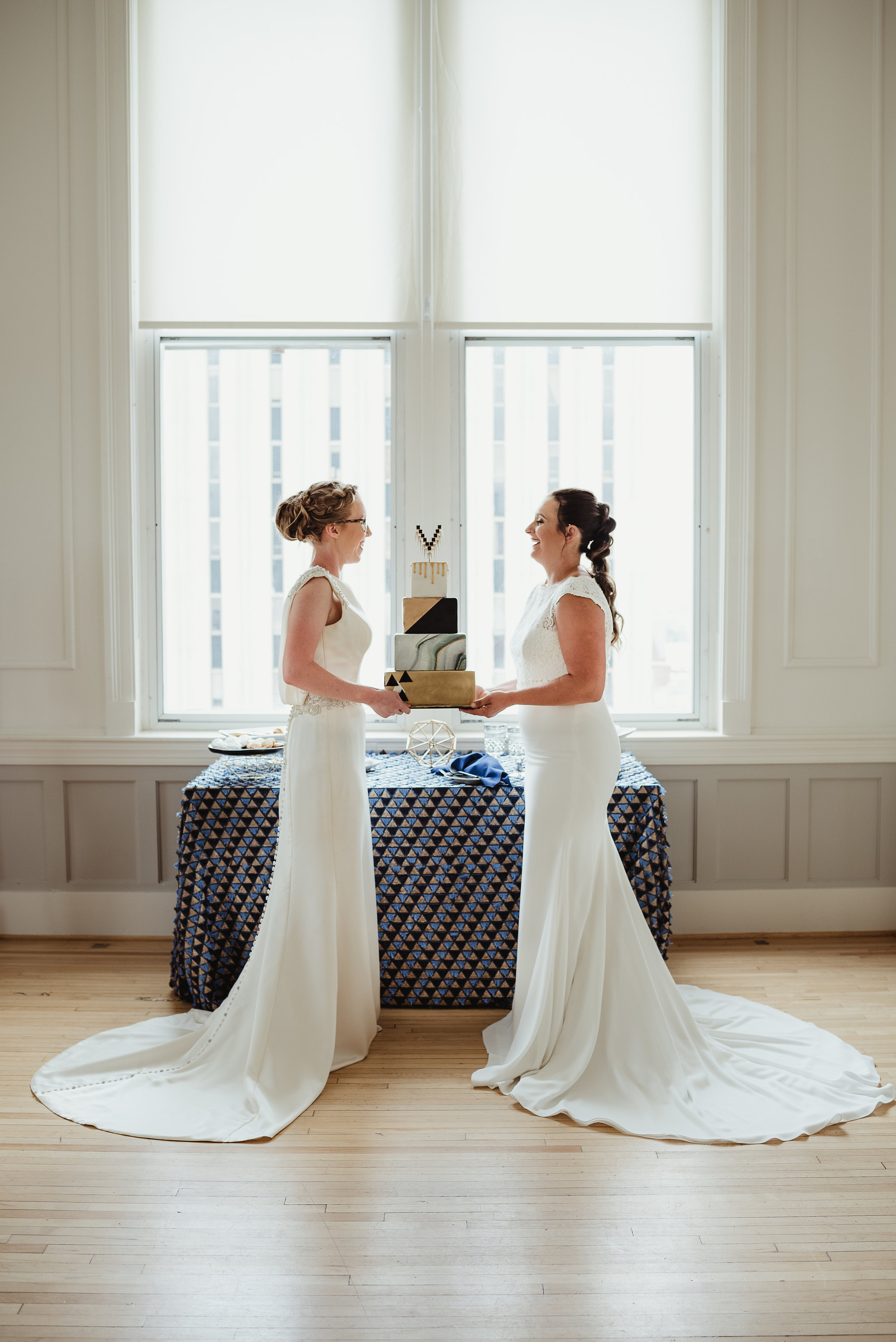 Featured Styled Shoot: Love with a Modern Touch
Raleigh is a special and exciting city. As a big swath of blue in a mostly red state, the capital of North Carolina is home to everything from the Governor's Mansion and NC Museums of Natural Sciences to the annual Hopscotch Music Festival and tons of conventions at our amazing convention center.
But even in this liberal-leaning capitol city we still encounter those who, sadly, aren't supportive of the LGBTQ community and their rights. In an effort to show that Raleigh wedding vendors overwhelmingly support the notion that "love is love" a local officiant asked a simple question on a local wedding vendor facebook page - "who would like to do a same-sex styled shoot?"
I am proud to say the response was enormous! So much so that we actually ended up producing 7 different shoots - each with their own team of planners, photographers, venues, cake makers etc. I had personally decided to sit out any more shoots this year but when this came across my feed I couldn't stay away.
I had the perfect models in mind! I brought my husband's cousin and her partner in as our real couple and chose blue as our main color to represent the bright blue of Raleigh in a sea of political red. Our venue, The Cannon Room, is positioned in the heart of our vibrant and growing downtown and is flooded with light which makes it an irresistible spot for photos. I wanted to show that weddings don't have to be over the top to be special so we stayed simple, clean, and modern as we let the table top be our main focal point. Our couple was another main focus and highlight as they were as unique and lovely as the space or any of our decor pieces. We chose to skip the sweetheart or head table and focus on the ceremony space, dinner dining set up and of course, the bar! I think my favorite pictures of the day are from the ceremony. This part of the day that is often rushed but I encourage my clients and their bridal party to really cherish it. Those two aren't the only ones standing up that day to make a crazy promise to love each other. They have all gathered to support them in their desire and adventure to put their marriage above all else and nothing is more lovely to me.
Ready to have RLE style your event?
Contact Us today to have Rowan Lane Events on your dream team of wedding vendors!